Commercial & Industrial
All of our galvanized chain link gates are custom made in our shop. These gates are being used for a dumpster enclosure. By adding the privacy slats it keeps your business' trash area looking neat and clean.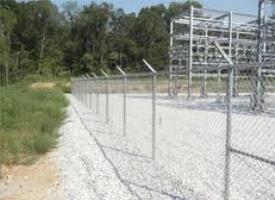 If your business and/or property needs protection, our commercial and industrial fencing is the choice for you.
Along with regular fencing, we offer a security chain link fence topped with razor ribbon wire and/or barb wire. These types of fences are typically used in commercial and industrial applications where perimeter security is at a premium.
We also install turnstiles, card readers, mag locks, keypads, transmitters, and most all other secured entry devices. Don't hesitate to ask us about any particular project idea you may have. We are happy to find a solution.